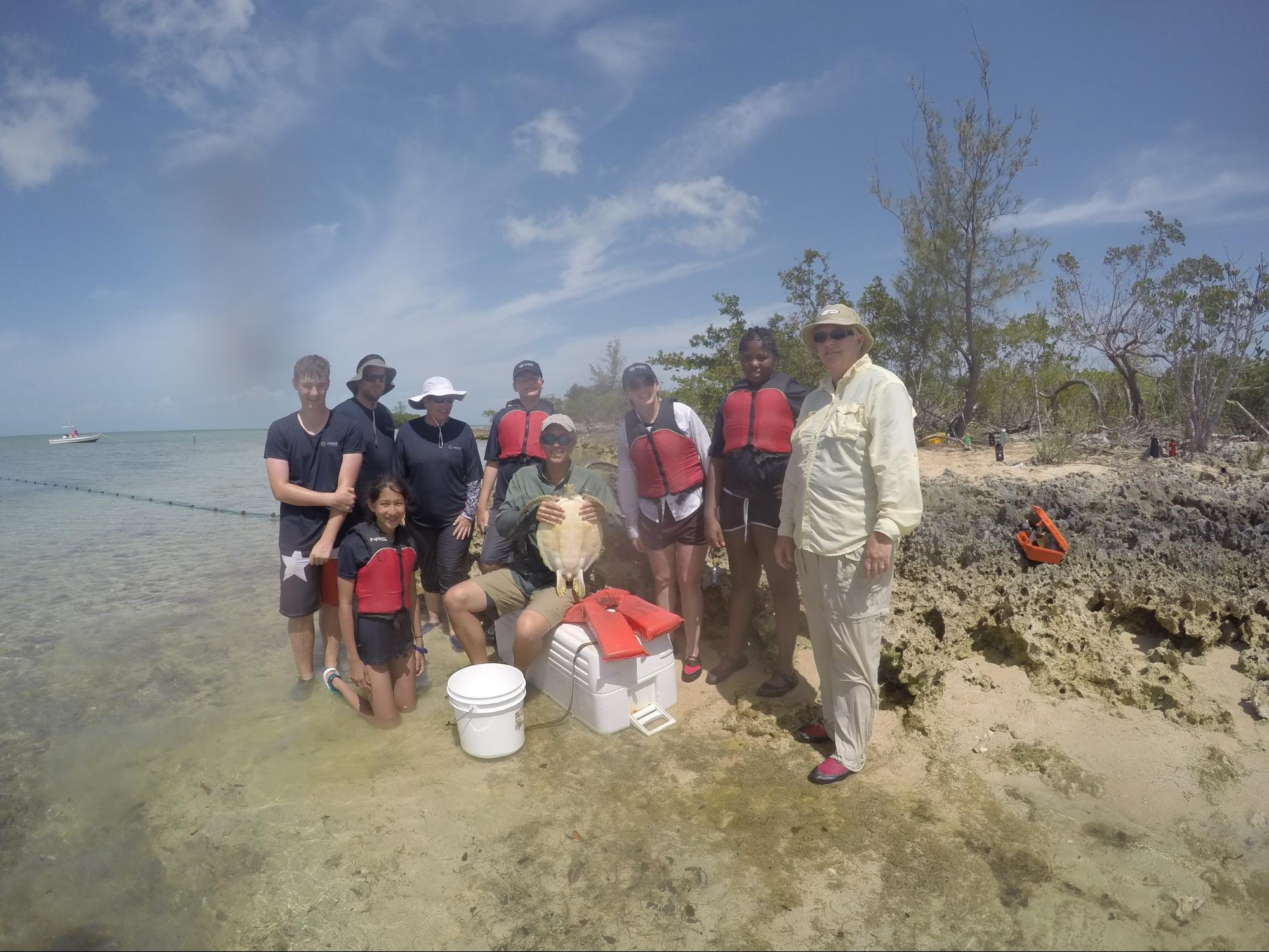 This morning was rather somber because the Argonauts lost three members today. Wyatt, Elias, and Rexana had to leave a day early. Despite the loss, we began our morning activities like any other day. Today's activity was a surprise! Kristen told us that our activity was called High Rock. Everyone piled into the van without a single empty seat. During the ride over to High Rock the van played great island music that resulted in a spontaneous van dance party! After a fifteen minute van ride we arrived at a 15 foot cliff overlooking the turquoise waters of the Caribbean. After a few quick instructions it was time for our leaps of faith. Almost everyone jumped into the crystal-clear waters below, and those who did not walked down a moderately steep limestone ramp. While in the water everyone cheered on the next Argo to jump, or marveled at the spectacles to be seen in the sea. The water held treasures of multicolored fan corals, small tropical fish, and other wonders. After fifteen magical minutes, it was time to leave. Everyone struggled to climb up the slippery limestone rock wall. Everyone got into the van that seemed to have gotten much tighter, wetter, and smellier since ride to the High Rock. Thankfully the music in the van cheered everyone up since we were all disappointed about leaving the magical High Rock.
We took a boat over to a saltwater creek in order to drop a seine net and wrangle lemon sharks for Ian's study.  While we waited for high tide to recede, Stan gave us an awesome lesson on mangroves.  Mangroves are plants that are able to live and thrive in salt water while providing homes for many animals and protection from coastline erosions.  We circled up around a mangrove and upon Stan's direction began splashing water on the mangrove roots.  As if it was a magic trick the roots immediately turned red with water on them.  We learned that this is where the red mangrove gets its name and then proceeded to dance to a red mangrove song and chant a red mangrove chant together in unison, which looked and felt silly, but was a total blast!  Then we began the coolest part of our mangrove ecology lesson...we let the high tide float us back out to where we had dropped our lunches for the day.  I put in no effort and just enjoyed the ride and view on the way out with the high tide.  On the way out I was able to grab a dropped mangrove root and watch in awe as many fishes emerged from safety inside the twisted mangrove roots.  Upon returning to the lunch sand bar, we found black and white mangroves to study.  Did you know you can tell a black mangrove from the other types by licking the back of the leaf?  If it's salty, then it's a black mangrove.  White mangroves have flaky bark, small, waxy leaves, and look very similar to a typical bush.  As the mangrove lesson concluded and all the mangrove roots came out of the water as the low tide settled in, all I could think about was how much I wish I could teach tides and ecology in such a real life, amazing way every day!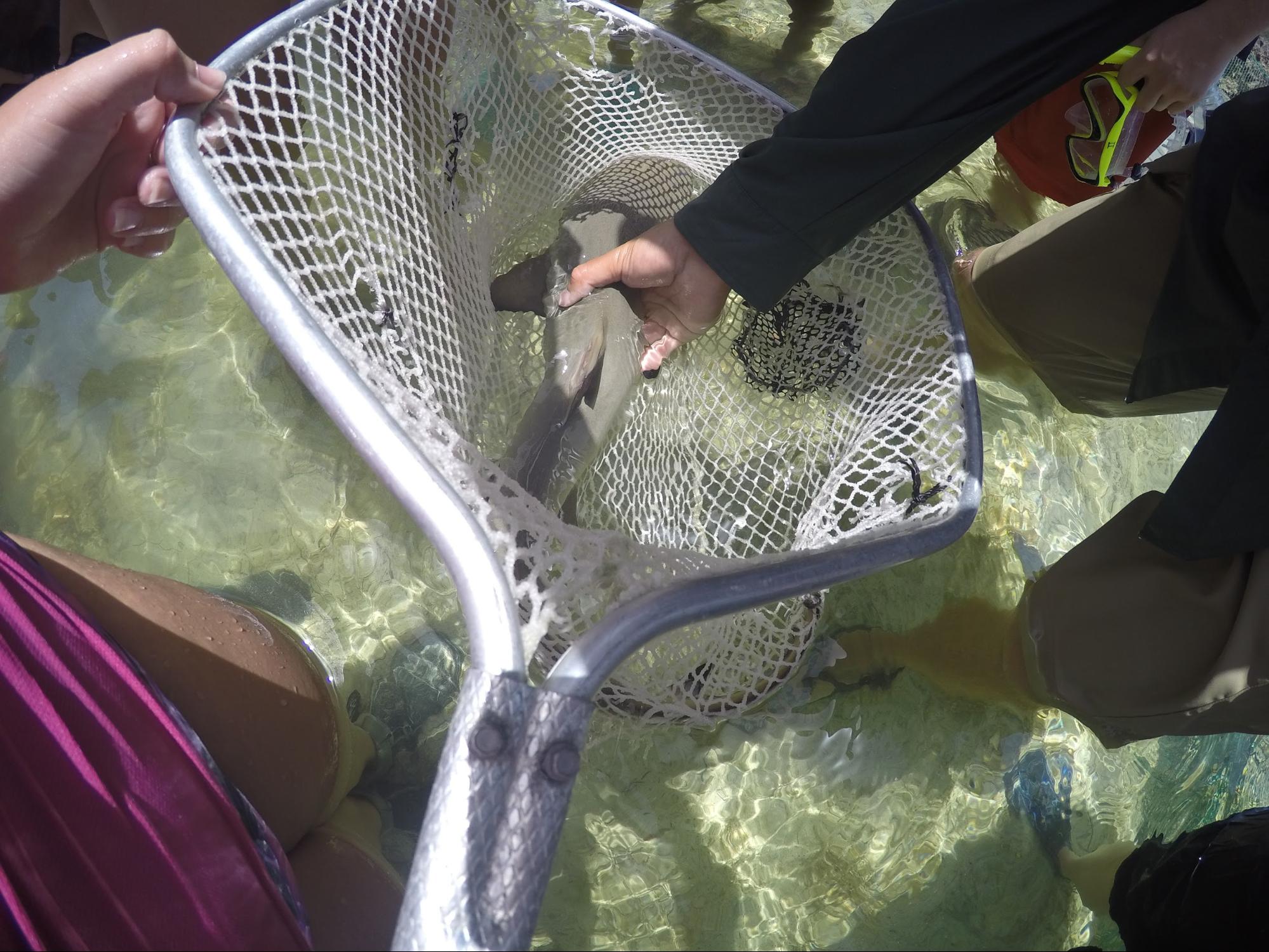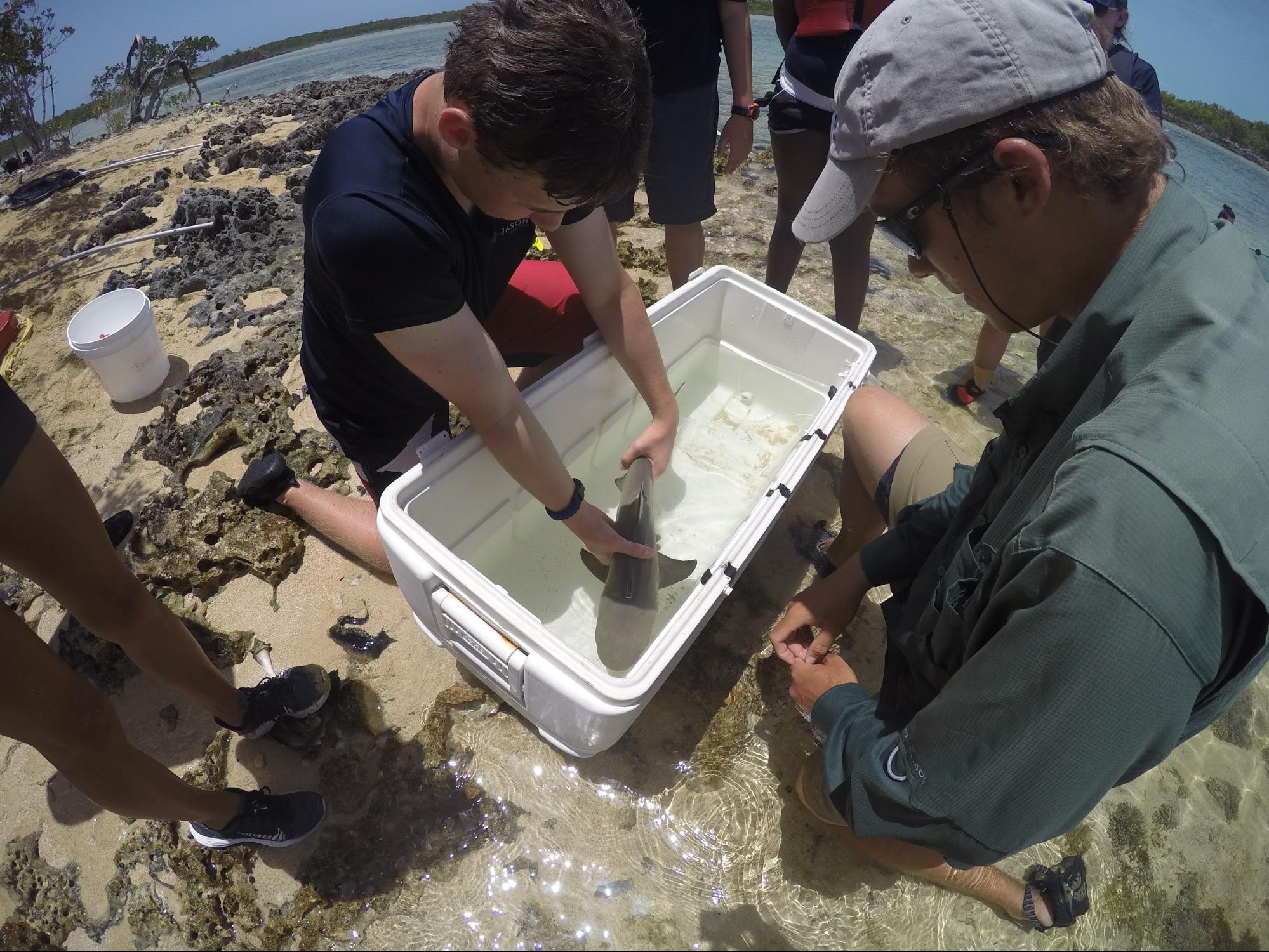 As the seawater receded with the tide, the day ended on a high note.  Ian's perfect record of tagged shark recapture was maintained!  All of us watched with excitement as two lemon sharks scurried about in the creek, until finally they reached the net and were in Ian's capable hands.  He placed each in a cooler full of water, and gave us a detailed explanation of how the tags worked, before carefully removing them from each shark's dorsal fin.  Each tag featured an accelerometer which accumulated detailed stats on the shark's rate of movement over a study period of several days, so Ian could analyze their movements and understand their behavior.  After a fantastic "show and tell" session describing the sharks' anatomy and functions, we each got to hold the 2-1/2' long beauties in our hands!  Then we got to wave goodbye as they were released back into their habitats.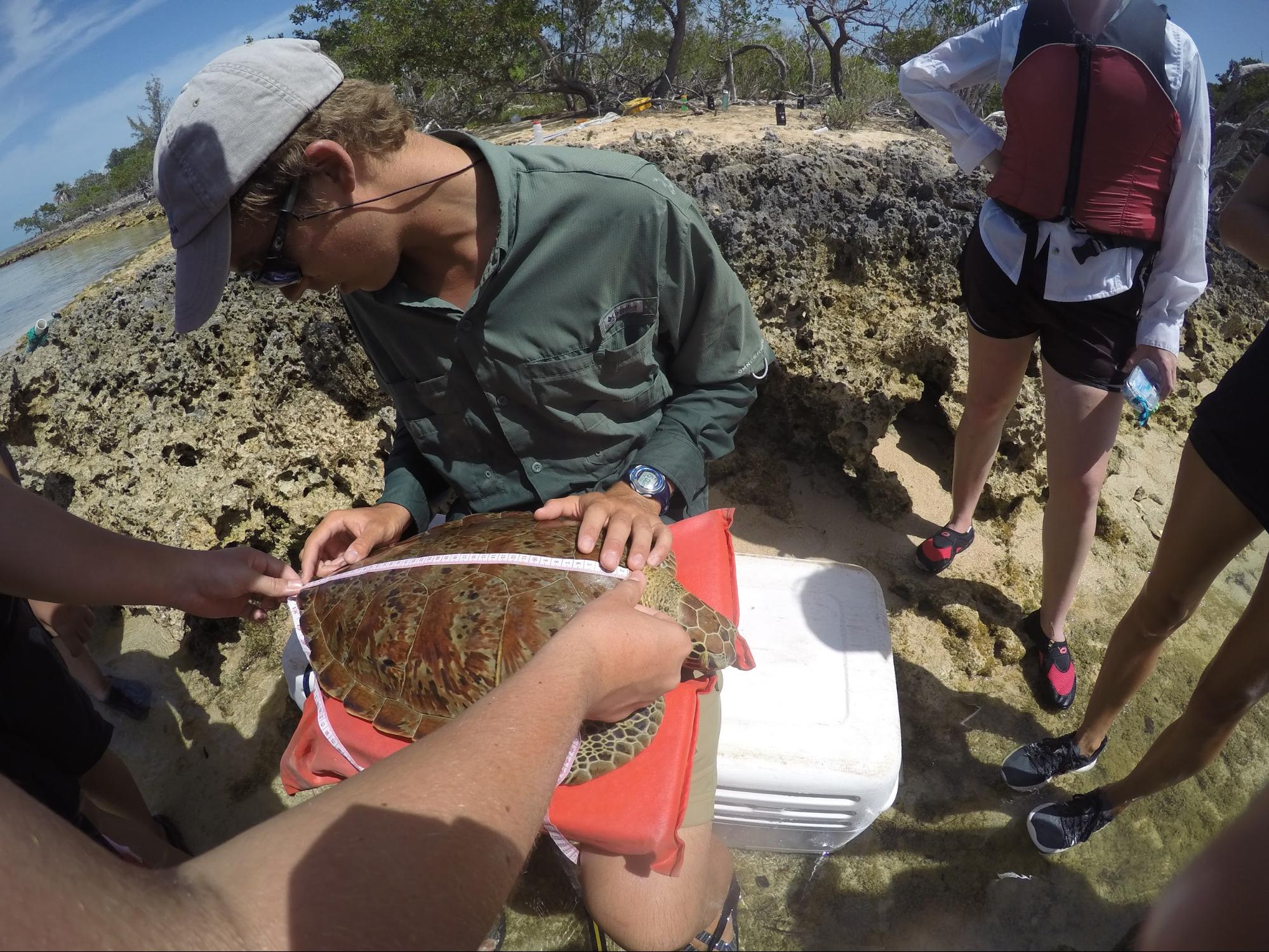 More fascinating beauty lay in wait for us after the sharks' release, as we caught a gorgeous green sea turtle in the same net, a rare find for this location.  Its shell was the very epitome of what fashionistas know as the "tortoiseshell" look, with a rich blend of greens, browns, and reds adorning a beautifully outlined set of "skutes," or sections of the "carapace," otherwise known as the shell.  All of us took snapshots of this fine creature as we poured water over it to keep it cool, and stroked its finely appointed exoskeleton before we released it into the water.  What a fitting end to our expedition! 
After we got back from the creek with the sharks and the turtle, we took a much needed break. Then Stan told us that since we were leaving we had to do a deep clean. This deep clean involved sweeping, mopping, and cleaning everything in our dorms and the octagon. The mood of the deep clean was sad because we realized it signified the end of our trip. Then we had a quick dinner of chili and cornbread. After a lively dish duty, we phoned home. Later, we walked down the beach behind our dorms to a small fire as the large orange sunset on our last day in paradise. All of the Argonauts sat around the fire roasting marshmallows and eating chocolate chip cookie s'mores. Then Coach Cotton and Gregg dubbed each member of the hammerhead tribe (all the boys in the group) with meaningful nicknames. As the moon began to rise in the black sky, the Argos shared their roses, buds, and thorns from the trip. A rose signified are our favorite thing that happened, a bud - something we look forward to, and a thorn - something we did not like. The Argos did the activity with lots of emotion, but with the knowledge that each one of us had undergone a metamorphosis throughout our magical trip.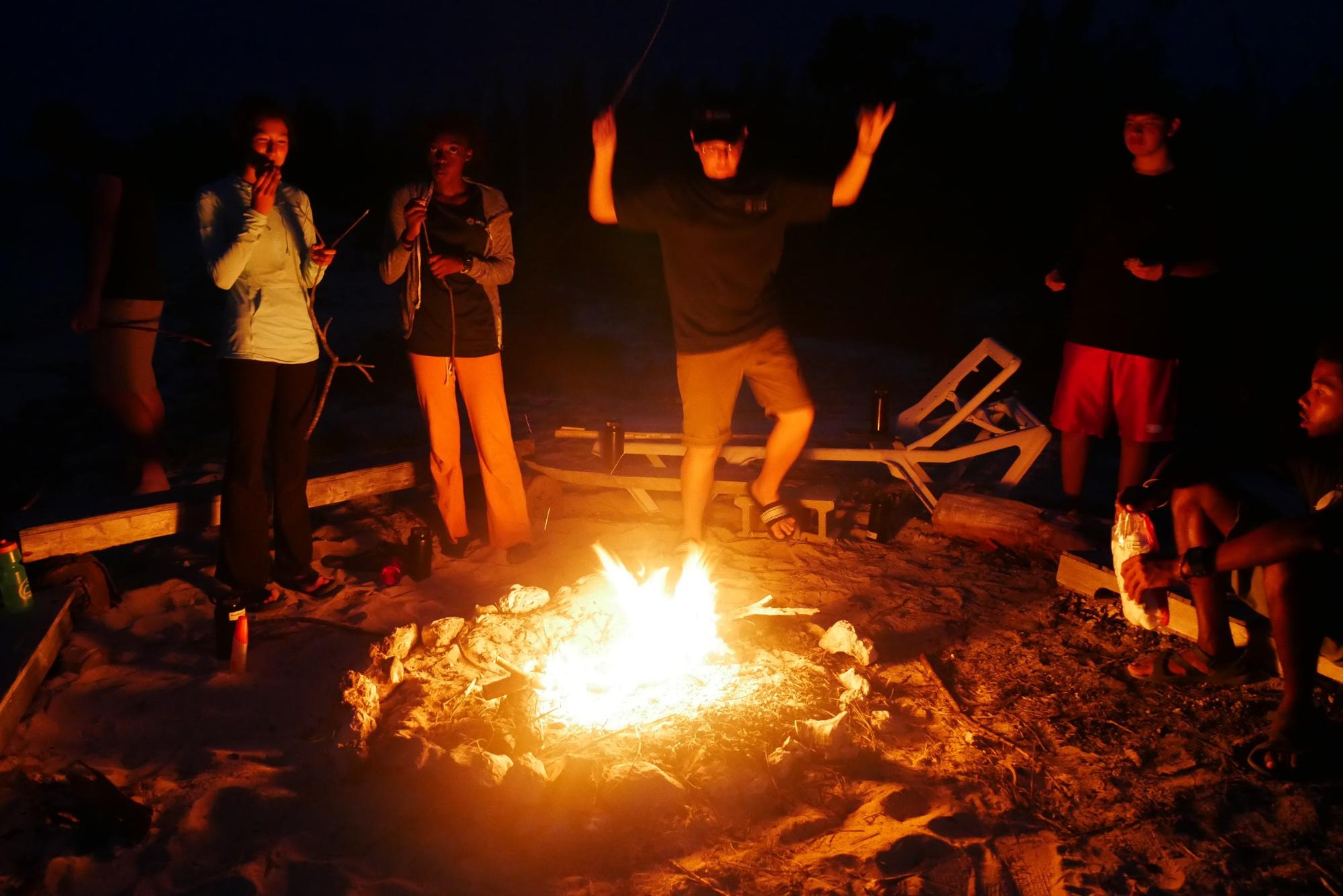 Editor's note - Is that Patrick . . . . dancing?  Awesome!